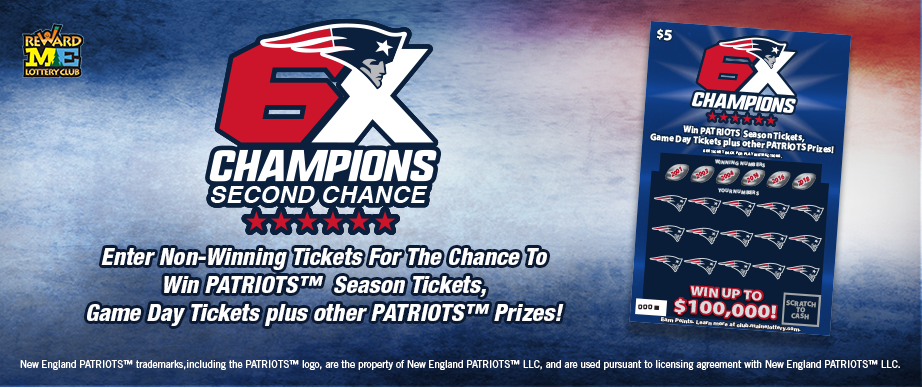 Drawing
Entry Deadline*
Drawing Date*
Prizes
1
October 05, 2019
October 08, 2019
(33 winners) - 2020 Preseason Game Day Packages;
(20 winners) - 2019 Game Day Packages;
(1 winner) - 2020 Season Ticket Package;
(1 winner) - Autographed Jersey
2
February 22, 2020
February 25, 2020
(33 winners) - 2020 Preseason Game Day Packages;
(20 winners) - 2020 Game Day Packages;
(2 winners) - 2020 Season Ticket Packages;
(1 winner) - Autographed Jersey
3
May 23, 2020
May 27, 2020
(34 winners) - 2020 Preseason Game Day Packages;
(20 winners) - 2020 Game Day Packages;
(2 winners) - 2020 Season Ticket Packages;
(3 winners) - Autographed Jersey;
(1 winner) - Autographed Helmet
All entries must be submitted no later than 11:59:59 p.m. (EST) on the entry deadlines listed. Following the drawings, the winner's information will be posted after verification.
*Actual drawing dates are subject to change at the sole discretion of the Maine Lottery
Two (2) Patriots Upper Level 2020 Season Tickets for each Patriots preseason and regular season home games
One (1) Parking Pass for each game
Two (2) Patriots Upper Level Game Day Tickets
Two (2) Patriots Tailgate Party Passes
One (1) Parking Pass
Two (2) Patriots Upper Level Preseason Game Day Tickets
Two (2) Patriots Tailgate Party Passes
One (1) Parking Pass
Authentic Game Jersey
Autographed Helmet
HOW TO ENTER THE DRAWINGS:
Enter your non-winning PATRIOTS™ 6X CHAMPIONS (game #446) instant tickets at https://club.mainelottery.com. Players may submit more than one (1) entry per drawing. However, players are limited to one (1) Season Ticket Package, one (1) Game Day Package, one (1) Pre-Season Game Day Package, one (1) Autographed Jersey, and one (1) Autographed Helmet per person for this second chance promotion. Entries submitted for each drawing will carry over into the next available drawing. Entries received after the final entry deadline for the last drawing shall not be eligible for any PATRIOTS™ 6X CHAMPIONS Second Chance Drawing. Non-winning tickets mailed to the Maine Lottery will not be entered into the drawing or returned. Game rules with second chance drawing deadlines and prize information may be found at the entry website or by contacting the Maine Lottery. Second chance drawings are for a limited time only. Game may continue to be sold even if all second chance drawings have been completed.
VOID WHERE PROHIBITED BY LAW.
ENTRY DETAILS
To be eligible to enter, you must be at least 18 years of age and submit a qualified entry. A qualified entry consists of one non-winning Maine Lottery PATRIOTS™ 6X CHAMPIONS (game #446) instant ticket. For official rules, see Rules below
Rules
FAQ's
New England Patriots trademarks, including the Patriots logo, are the property of New England Patriots LLC, and are used pursuant to a licensing agreement with New England Patriots LLC.
Keep it fun. Play responsibly.
For confidential help with problem gambling
dial 2–1–1 (Maine only)